Exhibition: Texture Anatomy in Collagraphy Tomasz Woźniak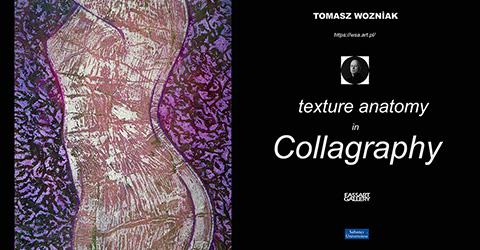 The exhibition is a part of the doctoral work from 2001. It explores activities aimed at a synthesis in different fields of creativity like the recycling art and graphic arts. The works are composed of geometric forms representing simplified female nudes in combination with printed textures derived from recycled materials. The materials used to create the matrices are semantically related to the presented characters.
Those materials are food wraps, fragments of clothes and utility fabrics. In other words – some works contain textures, traces of products that a woman's body can consist of, other illustrate what this body may be wrapped with.
All prints are made in the technique of collagraphy. They were made on coloured paper. Each print has been printed at least twice. Most of the prints have been additionally treated with water-based drawing ink or stamp ink. The ink was applied onto the unprinted parts of the paper
The contour of a woman's body consists of many curved lines. Observing them and then reproducing them can be a very satisfying for the artist. Characters are pictured both naked and dressed. They have features of nudity, as well as the texture of the matter covering the body. This procedure was used in order to enrich the means of expression and strengthen the relation between the main motif and the structure of the background.