ISType is back!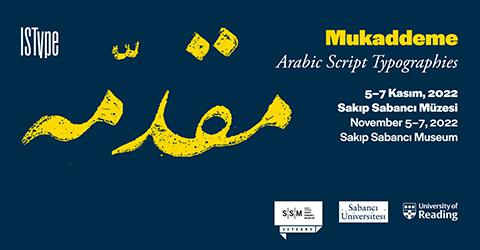 Mukaddeme, in Arabic, Ottoman Turkish, Persian and several other languages means introduction. Unlike our past conferences, this conference was specifically inspired by a new book entitled, Arabic Typography: History and Practice. Hosted at the Sabancı University Sakıp Sabancı Museum, this event reflects this new book's approach, bringing together historical research and contemporary design. Speakers include leading authorities in Arabic typography, history and calligraphy, and the book's authors, weaving together perspectives from design, research, and interdisciplinary practices.
Come and join to discover compelling insights, to enhance your practice and processes. The conference will take place at the auditorium of Sakıp Sabancı Museum, which is located in Emirgan, one of the oldest settlements of the Bosphorus in Istanbul.
The talks will be held in English. Find out more about the program at istype.com and be sure not to miss the limited FREE registration to the conference!
ISType mukaddeme is organized in collaboration with the Sakıp Sabancı Museum, Sabancı University and the University of Reading. ISType 2022 is kindly supported by Google, Darden Studio, Typetogether, and Glyphs.