Technological Arts Preservation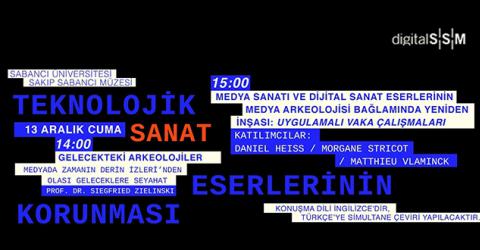 digitalSSM's 'Technological Arts Preservation' project Continues with the conference on December 13
The research project 'Technological Arts Preservation' introduced by Sabancı University and led by Sakıp Sabancı Museum's archive and research space digitalSSM, continues with a conference on Friday, December 13th. Conference will be live streamed from youtube.
The panel, which will be held in the SSM conference hall, begins with the talk titled 'Pro-spective Archaeologies. Travelling through Deep Time of the Media into Traces of Time' by Prof. Siegfried Zielinski, the Michel Foucault Professor of Media Archaeology and Techno-Culture at the European Graduate School in Saas-Fee. Zielinski, who has published numerous books and essays mainly on the archaeology and variantology of the relations between art and media, will focus on the need for an ARCHIVIST-IN-RESIDENCE program in his speech.
In the second part of the panel, Daniel Heiß (Software Engineer), Morgane Stricot (Senior Media and Digital Art Conservator) and Matthieu Vlaminck (Junior Media and Digital Art Conservator) from ZKM (Center for Art and Media Karlsruhe) and PAMAL Group (Preservation & Art – Media Archaeology Lab) will deliver a speech titled 'Media Archaeological Reconstruction of Media and Digital Artworks: Practical Case Studies.' Through practical case studies including artworks Virtual Sculpture (1981) by Jeffrey Shaw, Yuppie Ghetto With Watchdog (1989-90) by Paul Garrin and Wipe Cycle (1972) by Frank Gillette and Ira Schneider, the talk will focus on how media archaeology is applied and evaluate its achievement in fulfilling its aims.
The 'Technological Arts Preservation' team is composed of Sabancı University Visual Arts and Visual Communication Design Faculty Member Selçuk Artut, Computer Science and Engineering Faculty Member Cemal Yılmaz and Sakıp Sabancı Museum Digital Preservation Specialist Osman Serhat Karaman.
The Conference will be held in English with simultaneous translation to Turkish and admission is free of charge.
For more information and to register, please visit www.sakipsabancimuzesi.org