Kasa Gallery Exhibition: Show Me Color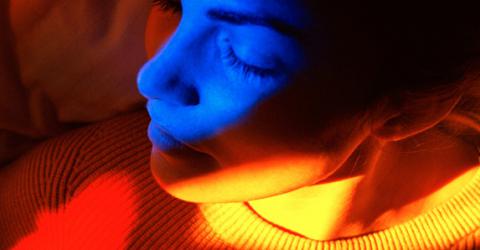 The name of the exhibition -show me color- can be interpreted in two complementing, even successive meanings: Saying it bluntly, letting in, showing intent, disclosing position, exposing oneself. Refusing to stay hidden; coming out, coming clean. But there is the unmistakable expectation which points at the artist's pallette, videographer's pixels, the red, black and white of photographs -- that indispensable part of artistic creation that is the fundamental act of the artist: who expose themselves by showing their colors, or color themselves into existence.
The three artists in the exhibition bring three different takes on body and color. Çınar Eslek depicts our deepest shadows, primordial instincts like hope and fear, showing disbelief at how easily we internalize meta narratives. Marguerite Bornhauser photographs dreams in color built in layers on skin, showing how the colors that may be given to the skin can be as fickle as sensitivities, sometimes shaded, occasionally harmonious and dramatic, but always lighthearted and vibrant. Semiha Berksoy's works have an almost totemic presence in the exhibition. They say that makeup may be the spirit's projection onto the skin; that laughter, when branded with fiery red right above the smile, can be the symbol of a candid, light, flirty, fiery or exalted existence. All three use unconventional colors to suggest that the body is the first front to be conquered to resist against normalization.