ISType Mono Event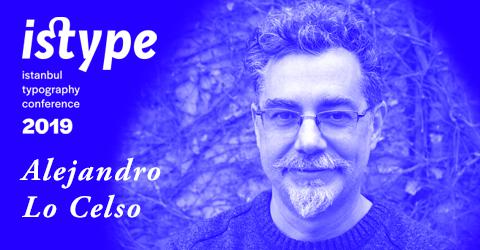 Type design: Tensions between dualities. And how to relax.
6 March 2019 — 19:00 — SALT Galata 1st Floor Workshop Room
Following last year's ISType Mono talk by JB Levée, we're back with some news regarding our forthcoming events.
First, we're pleased to announce that we will be hosting Argentinian type designer and educator Alejandro Lo Celso as the speaker at our next Mono event on March 6, 2019. In 2001, Alejandro established PampaType, the first Argentinean font foundry, whose typefaces have been globally praised for their originality. Lo Celso, who currently serves as a professor of Typography at the University of Buenos Aires, will share his in-depth knowledge and experience in the field of type design during his talk, "Type design: Tensions between dualities. And how to relax".
We are also thrilled to announce that our 6th biennial ISType conference will take place from June 14–16, 2019, under the theme of "axis". Preceding Alejandro Lo Celso's Mono talk this March, we will not only be unveiling the dedicated 2019 axis conference website, but we will also be disclosing our full line-up of 17 speakers, comprised of celebrated type designers, sign painters, and calligraphers.
ISType Mono events are free of charge and open to the public, so do come and join us on March 6th to discover Alejandro Lo Celso's insights—and to find out more about the upcoming ISType axis conference.
For more information on Alejandro's talk please visit the link below.
//istype.com/alejandro